STEVES BUS PAGE
Welcome to my bus page, I have spent a lifetime living , riding and working on busses as this first picture shows. Over the last few years this page has become one of the top rated bus web sites due to some of these historic photos and busses. In the next few weeks I will be updating this page to contain information relating to different types of busses and most importantly, a place where you can buy and sell busses of all kinds. I will also be selling bus parts from my own collection as well as others. I also have a large collection of bus and engine repair manuals that have been scanned. If it has to do with a bus, you can find an answer here.

Silversides
Silver Eagle
MCI
Scenic Cruiser
GMC
Mercedes
Prevost
Volvo
Van Hool
Neoplan
Brill
Setra
Enjoy



This is one of my favorite pictures.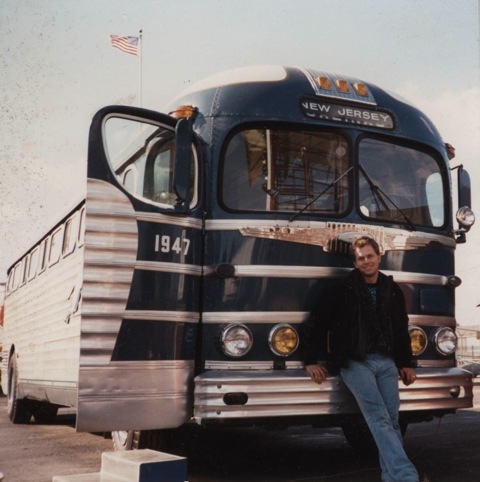 This bus is ( or was ) part of Greyhounds Historic fleet of busses and has been seen in several major motion pictures. Notice the numbers on the door -1947 That's the year this bus was built. This number can be seen on the door in the movies. Sometimes they cover up a number but it's the same bus.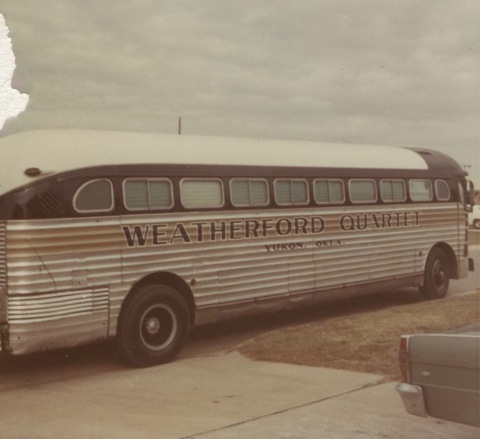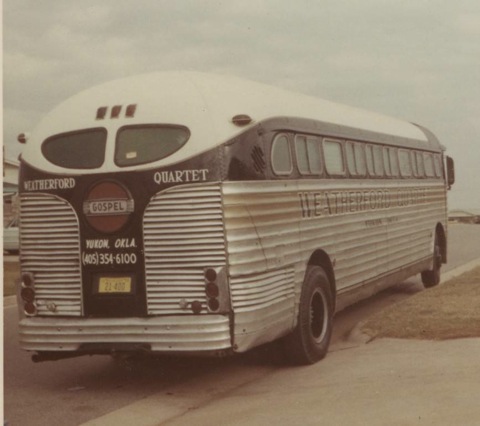 This is a classic GMC Silverside bus we had in the late 60's We had several of these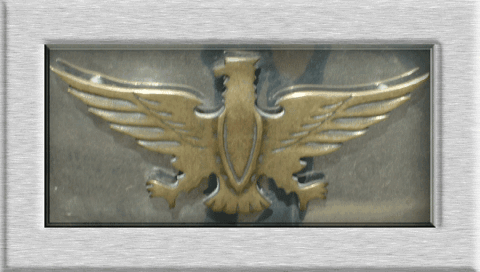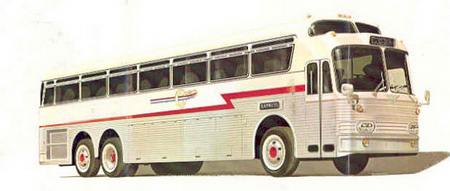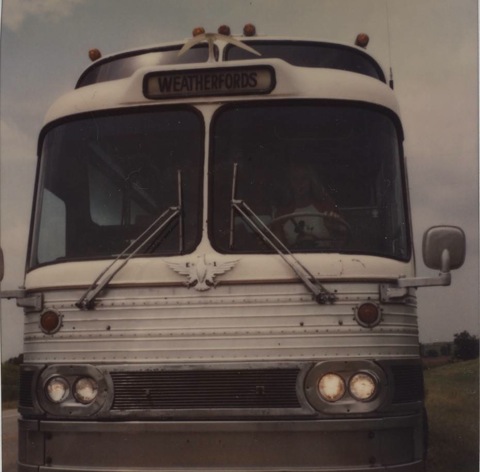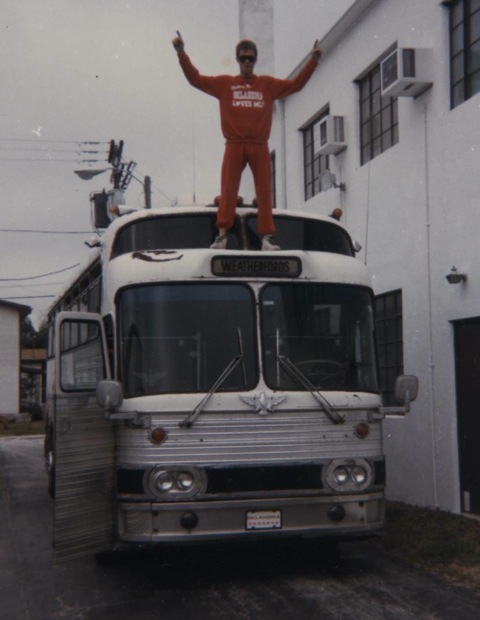 Bus # 8, 1965 Silver Eagle 01, 8V71 Detroit Diesel ,10 speed Road Ranger transmission.
This bus was almost new when we bought it. It served us well for almost 18 years. I had completely rewired it and everything that could ever break on a bus broke during that time. Once during a snowstorm and sitting on the side of the road with a flat tire, I decided I could change the tire myself instead of waiting on a service truck. While I was jacking the bus up from underneath, my Dad decided to dump the holding tank to the toilet. Needless to say, I came out looking like a frozen blue smurf.
I still have the Eagle emblem from the front of this bus in my collection "to remind me".




We went back to a 4104 after many years with the Eagle 01. Then back to a modern Eagle 10
Our 9th and 11th bus side by side.


This page is one that deals with a subject dear to my heart. The BUS. I drove my first bus at age 5 (really), setting on my dads lap. My dad got real sick one time when I was 14 (I just got my permit) and I got my first taste of driving a bus for 16 Hours straight. My family has owned 12 busses over a period of 65 years. We have had GMC's, Eagles, Mercedes, and a few other. We never owned an MCI or PREVOST. (YET). I hold to the opinion that the GMC 4104 was the best bus ever built. I have a lot of reasons why I feel that and If you have ever had one bring you back home or get you to a concert with it on its last legs, well its just something you have to experience for your self. They are the cheapest bus to maintain and operate of any bus bar none. It's kinda like a bus with training wheels, Its a good one to learn from

I have a different opinion of the best bus and my favorite bus. I'm an Eagle man at heart. I really learned most of what I know about busses from a 1965 Eagle 01. We owned that one for 18 years. Everything that could ever need repaired on a bus was, on that one in those years. I had two people that taught me most of what I learned about working on things. Roy Criss and Charlie Nance. I now am the proud owner of a 1983 eagle 10. Its a sweet ride and a good bus. We went for the better part of 4 years with no major trouble. All that changed in the Middle of 2003. We went through some major breakdowns that brought us to the brink of going under. With the help of the Lord and some really wonderful friends we are still on the road. The problems with the engine went on until the winter of 2007. It was a very trying time but we learned a lot about faith and how to trust the Lord.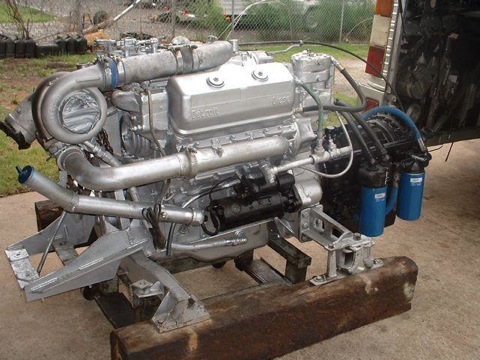 This is one of the many engines we blew up, it sure looks good, it ran great , for about 8K miles. This one let go on the Cal, OR border on I-5 headed south. This engine has the Jake Brake system with the bigger valve covers and the mitre box setup for a Model 10 Eagle - the box. This motor was installed in the bus by hand about 45 minutes after this photo was taken. It is resting on a vintage GMC 4104 Engine dolly, the one you would see in the GMC parts book. I aquired it several years ago and it comes in handy for rolling around an almost 4000 pound engine by hand. It was shipped from CA to OK on a trailer with the railroad crossties as a brace. We lag bolted them to the engine mounts and took them off just before we rolled it in. We got it up on the dolly with the help of a local tow truck.

The world of busses has changes so much in the last few years. Most new modern busses all have computer controlled engines and they are really getting good. You used to see busses setting on the side of the road broke down from time to time ( besides mine ) You don't much any more because they really are getting good at building them. The new engines are 4 stroke engines instead of the Detroit Diesel 2 stroke V-8 or V- 6 engines. Detroit Diesel may not even be building engines in the next few years for busses at all. Time will tell.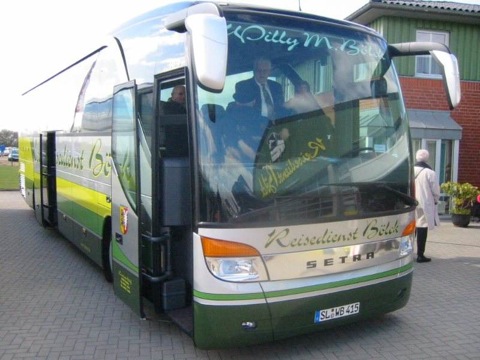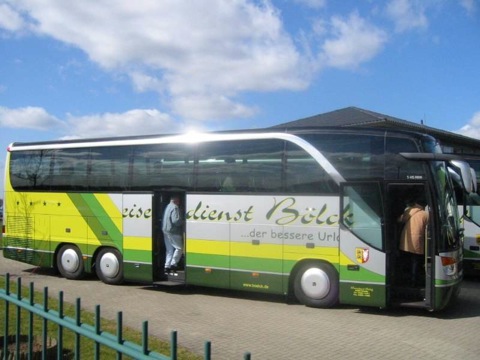 Here are a few picture's of a beautiful bus called a Setra. Its made in the same factory as the Silver Eagles were made in Belgium. The original Eagle was made at the Kassboro Setra factory there up until around 1980. I saw one of these on the road and its really stunning. That silver band is stainless steel and it really shines. I like the mirrors. I wouldn't hit my head on them.( You only do it once). I think if I could buy any new bus on the market , it would be this one.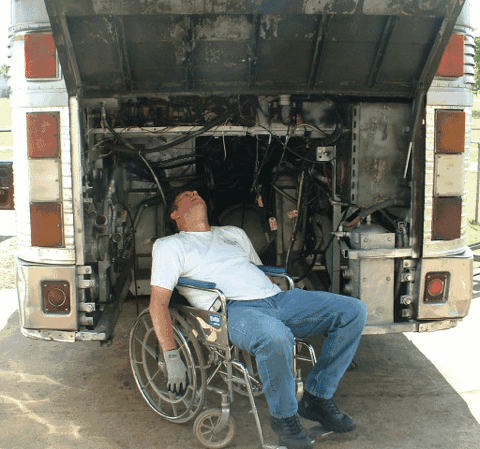 When its all said and done this is how I feel after being around busses. ( Back by popular demand )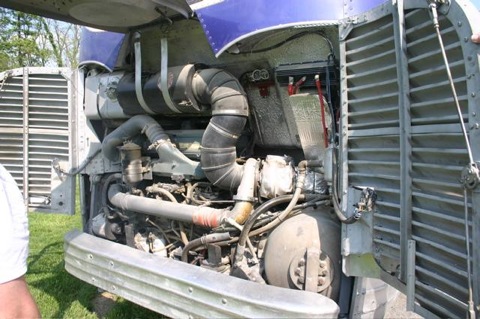 This is proof that a 50 series detroit diesel engine and allison V731automatic trans CAN fit in a 1947 silversides bus without moving the bumper. This is an amazing re-power and an amazing bus.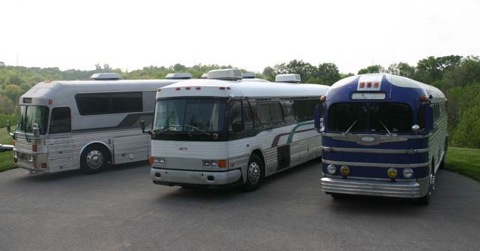 An interesting picture showing the progress of busses over the years from left to right.
(1983 Silver Eagle Model 10), (1960 GMC 4104), (1947 GMC 3751"Silversides.)
The funny part is that the 1947 model now is the most modern bus of the three. This is the bus with the Series 50 engine in it. This is an really wonderful ride and the love and care that was put into this bus makes it a work of mechanical work of art. I have driven all three of these busses. We have owned several of each.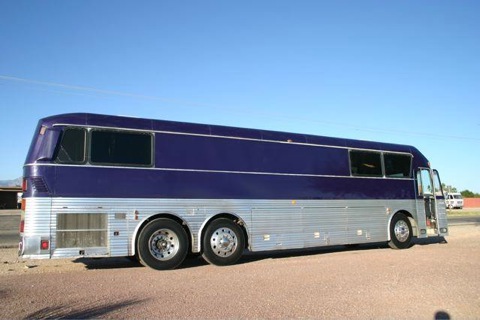 This is the Weatherfords bus # 12 This is the bus the Lord blessed us with back when we had so much trouble with the engine on the Grey Ghost. Thanks Jack and Claudine Pless for the blessing. It's been a great bus. I work on it from time to time getting little things done. We have taken it out a few times when the other bus was acting funny. I'm working on getting the old 12.5 KW Kohlar genset back in this bus and some AC units and putting it to work. This bus has the tightest air system of any bus I have seen. It can set for weeks and still have 60 pound of air in it , and it starts every time. Cool paint too, looks black at night.
Its now living back on the west coast.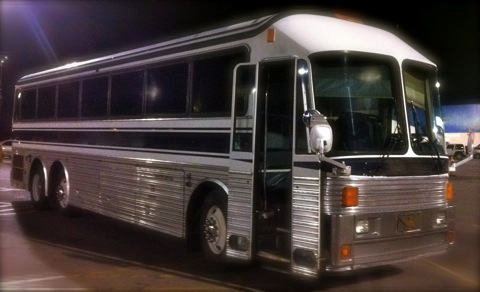 Weatherford Bus #13. It will soon be heading west too.




THE NEW ONE Model 15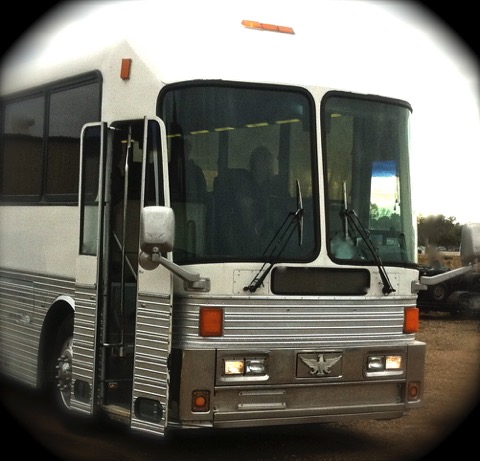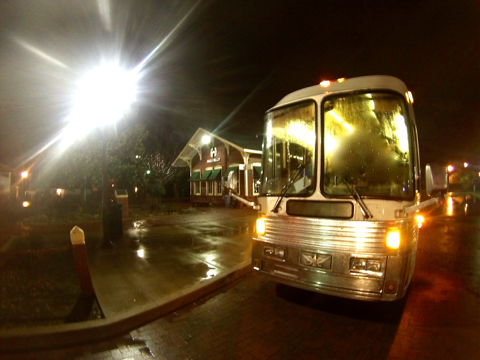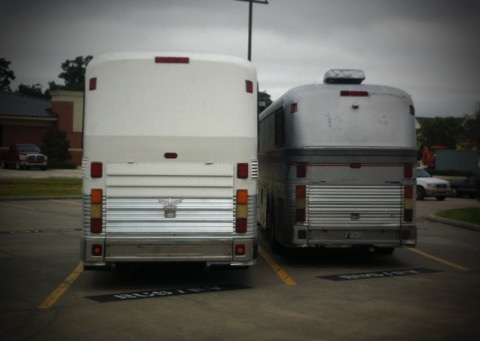 This is bus number 14 Its an amazing bus that we are extremely proud of. Its capable of near 14 MPG and its downright a hoot to drive. 450 HP.
'
Who would think that the Henry Ford museum would be a great place to look at busses. Well here is the first Bluebird School bus and the Bus that Rosa Parks would not set in the back of and the last picture while not technically a bus. I would drive it and I think it would be a HOOT.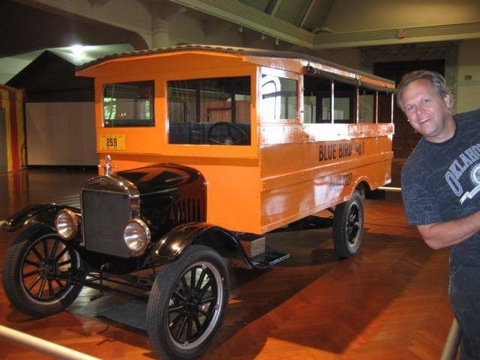 Bluebird #1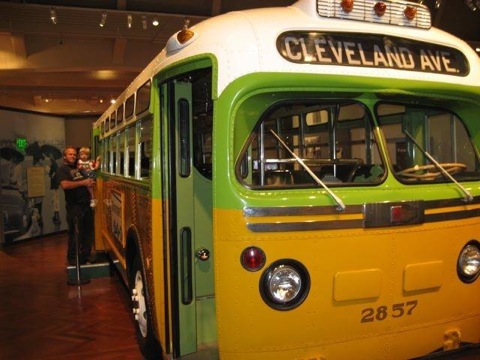 Rosa Parks bus with Steve & Skylar standing by the window looking at the seat.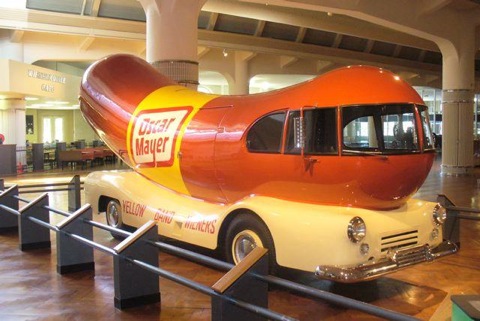 Its almost a bus..